3R2 side stream sprayer is the latest development in the field of multi-row spraying which can achieve more than 65% time savings.
The oppositely acting VLOS-air-support guarantees unsurpassed coverage of the crop and we achieve a drif reduction of 99,7%. In 2015 the University Of Wageningen in Holland is performing tests to measure possible spraying savings., which are in the range of 30% and more.
The 3R2 comes standard with:
– Control box in tractor
– Infinitely variable hydraulic width adjustment
– Independently suspended four wheel chassis
– Tyres 4 x 340/55-16 AW305 140A
– 170 liters diaphragm pump
– Electrical pressure regulator
– 6 Independently controlled spray sections
– Fibre glass air cassettes with collision controls
– Waltherscheid Branch-axis double angle"
With the touch screen spraying computer the control of the sprayng legs and the spraying computer are combined in one unit.
View specifications
View deposition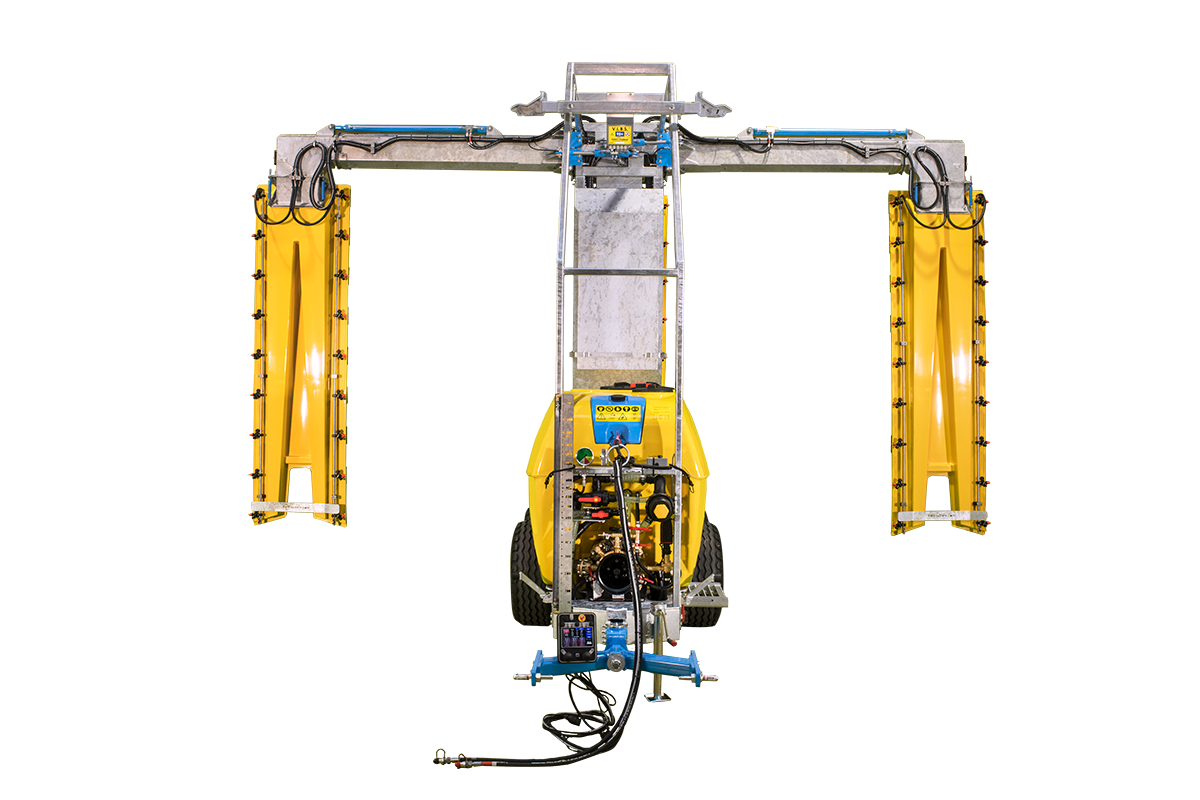 Labour time
The time saving of labour is more then 65% compared to a single row solution of KWH and appr. 75% compared to another single row sprayer. The high drift reduction of 99,7% gives you the maximum efficiency. No other machine can achieve the same performance
Spraying possibilities ( Biological fruit application )
The moment of spraying is more and more an issue. During the day, the weather conditions can suddenly change, which can destroy the perfomances of the biological chemicals. So an efficient spraying system of KWH support you to use your chemicals in the most efficient way.
Chemicals
Due to the high driftreduction of 99,7% the KWH 3R2 Sprayer is exempted for the use of a lot of chemicals. So you are allowed to use a lot more chemicals with a KWH sprayer. See the exemption in the CtgB-list
Noise
The noise level of the KWH 3R2 sprayer is less then 89 dBa. We have a certified JKI approval in Germany.